According to the BBC web site the new UK Government rules out 'pay as you throw' waste charges. the Waster wonders whether this means that Labour's recent announcement of a Zero Waste policy will similarly be dropped. Certainly, achieving zero waste will need both the carrot and the stick to achieve, and this seems to go against the zero waste culture.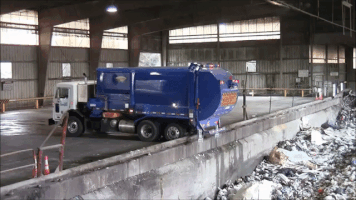 "Pay as you throw" charges for household waste have been ruled out by Communities Secretary Eric Pickles.
Plans to let English councils pilot schemes which would charge or reward people according to the waste thrown out had been drawn up by Labour.
But councils shunned the trials, aimed at cutting landfill, and Mr Pickles said the government backed rewarding people for recycling instead.
Labour said it should be up to councils to choose how to collect waste.
The UK must reduce the amount of waste sent to landfill by nearly two-thirds by 2020 to meet EU targets.
'Bin tax'
Labour had proposed giving households which recycled the most rubbish and left the least in their bin a rebate, while charging those who put out the most non-recycled rubbish.
Powers to allow five councils in England to trial the scheme from April 2009 were included in the Climate Change Act – but none applied, saying they had not been told how it would operate.
Critics said the "bin tax" idea could encourage fly-tipping and prompt people to burn rubbish at home.

You should treat people with respect instead of having a bunch of bin inspectors
Eric Pickles Communities Secretary
Mr Pickles has effectively ruled out a charging scheme, instead backing a recycling reward scheme pioneered by Windsor and Maidenhead council in Berkshire.
Households in the borough – which Mr Pickles visited on Monday to draw attention to the scheme – are being awarded points for the amount they recycle, which can be redeemed at shops, restaurants and leisure centres, or donated to schools.
Mr Pickles said the scheme had increased recycling by 35% and an incentive-based approach was more effective than taxes or fines in reducing the amount of rubbish sent to landfill sites.
"You should treat people with respect instead of having a bunch of bin inspectors, bin police," Mr Pickles told BBC Radio 4's The World at One.
Incentivising people was the quickest way to increase recycling levels, which he said would be badly needed if the UK was to meet its target of becoming "one of the green economies of Europe".
"It does not put the costs up," he added. "Actually what it does is it increases the recycling rate and puts money into the local economy."
Windsor and Maidenhead council is inviting more than 60,000 households to join its RecycleBank service from Monday.
Councillor Liam Maxwell said about "Pay as You Throw": "Paying the public to recycle works. It increases recycling rates, reduces our environmental impact, reduces council tax and helps local businesses.
More at BBC News.