Here is our list of six House Clearance Chores your local rubbish removal company will do for you. Not many people realise that good local waste skip companies are often willing to quote you a price, for additional labour. They'll give prices, not just for providing a skip and collecting it later, but for doing a lot more than that!
They can help you to fill it with rubbish, and if it's agreed in advance, they can also do much more.
Read our list below to find out what chores they can do for you:
If a bear can clean up afterwards so can your rubbish removal company!  via GIPHY
Not many people are keen to lift heavy items out of their homes. That's especially if they are of senior age, or have a history of back problems from lifting.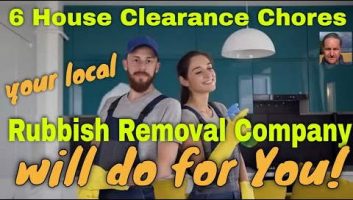 However, many do it because they don't realise what a rubbish clearance company will do, if asked.
Don't be one of the many who lift loads beyond their capability, and suffer back-ache later.
There is almost always a waste management company in any local area who will complete your house clearance chores for you.
Read on to find out what chores you can get done. These include:
1. Garage Clearance
De-cluttering garages and car-ports is often needed. It's a fact of life that we use our garages to store items. We are too busy to take them to our local recycling centre. Other items get put there when we are not sure we won't need them again. So, before very long the clutter in our garages accumulates. The result is that it becomes too much to handle! Maybe you can't even fit the car in!
That's where garage rubbish removal experts will arrive and clear the space quickly and efficiently. If arranged in advance, they can sort and box any items you want kept, and place items on shelving and in cupboards to your instructions.
This can be a snip of a service if you're moving out to a new home and want to clear your garage for packing.
Maybe, severe winter weather is approaching, you want to avoid defrosting your car each morning and garage your vehicle each night. You simply need to make space for your car, having accumulated clutter during the summer months.
In all larger towns there are usually local clearance companies that can provide you with the help and support that you need.
Search online for a local rubbish clearance company which specialises in garage clearance services. We've found that they are just waiting to help you de-clutter and win-back the space that you need in your garage!
2. Loft Clearance
Emptying loft spaces in houses is an obvious task to call in rubbish removal and waste disposal service contractors.
Many people put-off clearing their loft. The very thought of climbing into a loft and lifting long-forgotten items is unpleasant to most people. Think of all those boxes and bags full of "who knows what" that accumulate in most homes!
That's not to mention the many cobwebs and layers of dust in an old house loft. It's more than enough to stop most people from even pulling down the loft ladder!
Disturbing old loft insulation can send industrial levels of dust, fluff, and mould flying around. Wearing a dust mask is an obvious requirement, as is the ability to balance on ceiling joints while lifting heavy and frequently bulky loads.
Decluttering – What Must Go and What Can Stay
Once it has been brought down into the light, you'll need to decide what to hang on to and what to let go. It's not for the rubbish clearance staff to tell you what to keep or not.
For example, you may want to ask for a quote for your loft contents to be brought down first. The items can be left for a while in a convenient household location. You sort it out at your leisure. The rubbish is then collected at a later time, after you have decided what to dispose of and what to keep.
A good loft rubbish clearance/ skip contractor will come fully equipped. And, will frequently be accompanied by an assistant. They will be trained in safe loft working, and fully insured should damage occur. They will bring with them all the necessary masks, and any other access equipment needed.
They will bring, and wear, any other personal protective clothing required, all in accordance with site requirements.
For older people lacking the agility to enter cramped loft spaces, and balance on narrow wood joists etc., this service is a must!
3. Builder's Waste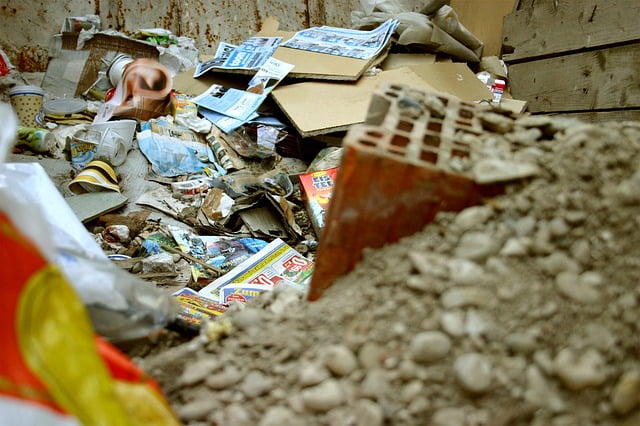 Although most good builders automatically remove and dispose of their building waste, not all of them do, and some simply forget!
On top of that, DIY building work can produce a surprisingly large quantity of unsightly rubbish. It's heavy. It's dirty, and can contain sharp objects to be wary of.
If this happens, and you are not a rugged guy or gal with a six-pack to exercise, we recommend you find a clearance company. Let the experts take care of removal and disposal of all builder's rubbish.
Watch out for the law!
The law says you must keep every part of your construction site in 'good order' and every place of work clean. The objective is to achieve what is usually called a good standard of 'housekeeping' across the site. via www.hse.gov.uk
The law is very sensible. Untidy sites where there is construction waste lying around have been shown to be more accident prone.
It's no different for home extensions, and DIY work everywhere. Untidiness, creates hazards!
4. Shed Clearance/ Demolition
Have you got a garden shed full of that needs clearing to de-clutter your life? Are you moving? Or, does the shed need emptying before knocking it down!
Shed clearance and demolition waste disposal service companies will make short-work of clearing them!
---
We made a video based upon this page. Watch it below, or continue reading:
To check that you waste carrier/ house clearance contractor is licensed go to http://bit.ly/noflytip
---
5. Garden Rubbish
Do you blitz your garden, rather than garden every week to keep the undergrowth at bay? If so you'll be familiar of the problem of filling your green bin in 10 minutes flat. The Council's waste collection rounds-men will generally take it away for you. But, only once every 2 weeks (and at an even longer interval for some unfortunates).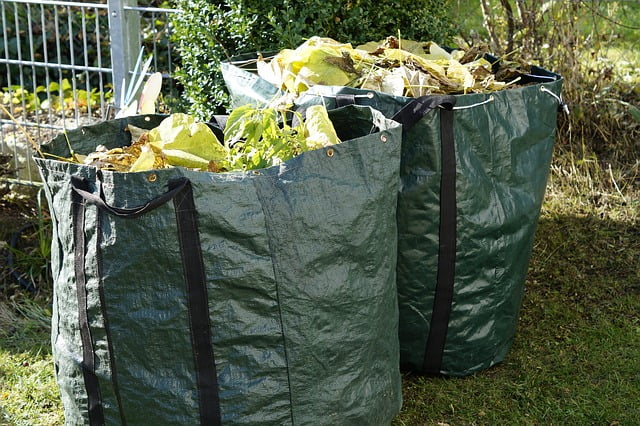 Local rubbish clearance contractor's can be engaged to clear all garden rubbish. Yes, get a quote for including prunings, excess soil, tree waste, old bricks, and general green waste. It's always worth asking if cheap rates are available. You may seek reductions for ready bagged waste, bulky green garden waste and soil.
Clearance of Garden Structures
Home owners who find they are slipping-about on old garden decking, need to act quickly. Act to remove any hazard like this, before someone is injured by falling. We have found that, if included in the quote, many waste clearance companies will happily dismantle and remove old rotten garden decking.
It doesn't stop there though. Disused and rotten garden coal bunkers are another waste type that a clearance expert can demolish.
Therefore, should your garden be looking a mess with unsightly rubbish lying around. If the lawn is covered with leaves. Then, don't delay. Give your local junk removal experts a call.
Once again, if you can have rows of bags of green waste ready for your rubbish removal Contractor's arrival, ask for a discount. Most of them will give a discount, for not packing those goods prior to moving them.
6. Household Rubbish
A good rubbish clearance company will always
take care to clean up any mess before they leave… via GIPHY
House clearance and waste disposal service providers offer household rubbish clearance. They can quote you for clearing single items, right up to full house clearances.
A good rubbish clearance company will work tidily. In fact this should be a top priority. Make sure that they sweep up any mess. Moving or dismantling big furniture items can leave a surprising amount of dust and dirt behind. They should clean all such mess up.
Even carrying waste out through the house can leave the floor littered. But, a good household rubbish clearance contractor will always clear all this up.
We suggest that you call Bin and Gone for a quote, if you are in the Brighton and Hove area.