The following US recycling systems companies are believed to supply recycling equipment to the US, and other countries internationally for use in MRFs (Materials Recovery Facilities) and Energy Recovery Facilities (incinerators).
The Waster was asked to provide a list of recycling equipment companies recently, by a waste management professional, wishing to obtain quotes for installing a MRF. He was starting out on his task of identifying suitable MRF facility equipment suppliers and said he could not find a straight list which was reasonably comprehensive and up to date.
We were surprised to find after conducting our own search online, that simple lists of current recycling systems companies (MRF Systems suppliers) were almost non-existent on the web. So, we have curated our list below, from the list of this year's exhibitors biggest waste exhibition in the US. We assume that all the top recycling systems companies (MRF Systems suppliers) will have been exhibiting, but do you own research. This list is not necessarily comprehensive, but it should be up to date as of our publication date.
Note: Recycling systems companies are listed alphabetically.
---
1. Bulk Handling Systems (BHS)
BHS is a worldwide leader in the innovative design, engineering, manufacturing and installation of sorting systems for the solid waste, recycling, WtE, and C&D industries. Wholly-owned subsidiaries include Nihot, NRT and Zero Waste Energy. BHS is also the home of Max-AI® technology, a breakthrough artificial intelligence that identifies materials, makes intelligent decisions and directs equipment such as robotic sorters. via http://bulkhandlingsystems.com
2. CP Group
CP Group is a team of manufacturers/ recycling systems companies providing innovation in the waste and recycling industry. Comprised of CP Manufacturing, Krause Manufacturing, MSS, Inc., and Advanced MRF, CP Group provides a variety of sort solutions worldwide, including MRF manufacturing, retrofits, audits, consulting, and engineering services. Custom turn-key systems are designed, installed, and serviced by CP Group for residential recycling, commercial and industrial, municipal solid waste, engineered fuel, construction and demolition, and electronic waste processing. via http://www.cpgrp.com/
3. Himes Service Company
Himes Service Company specialises in balers, conveyors, compactors, sort systems, and more, across all industries supporting their recycling and scrap processing equipment needs – Nationwide. HSC provides a full line of services including new and used equipment sales, equipment leasing & rental, OEM & stock parts, relines, rebuilds, emergency and scheduled service, PM contracts, turn-key installs, relocation & more. via http://www.HimesService.com
4. Hustler Conveyor Co./American Pulverizer
Hustler Conveyor provides cost effective solutions for your recycling needs including initial design, engineering, fabrication, delivery and installation. Equipment includes metering Drum Feeders, Disc Screens (OCC, Fines/Glass, Fiber), Trommels, Sort Stations and Conveyors (Roller Chain, Steel Belt, Sliders and Idlers style). American Pulverizer manufactures heavy duty size reduction and liberating equipment including slow speed dual and single shaft shredders, ring mills, hammermills, lab mills, single roll crushers, double roll crushers, glass breakers, turbo mills and bag breakers. via http://www.hustler-conveyor.com
5. KRS Recycling Systems
KRS RECYCLING SYSTEMS YOUR PARTNER IN GLASS RECYCLING State of the Art Technology for Glass Recycling. Stated to be one of very few recycling systems companies with over 30 Years Experience Training and Technology Centre including a fully functional optical sorting lab in Niagara Falls, New York Our delivery range: – Turn Key plants for MRF, Container and Flat Glass -Automatic separators for CSP, Plastic, Organic, Color, Metals, Heat resistant and Leaded glass – Special Dryer, Shredder, Crusher and Suction Systems for Glass Recycling -Special Screens, Feeders, Conveyors for Glass. via http://www.krsusa.com

6. Machinex Technologies, Inc.
A SORTING TECHNOLOGIES EXPERT For over 30 years, Machinex uses innovative solutions to design and produce custom-made sorting and recycling technologies for Material Recovery Facilities: Single-Stream, Mixed Waste Processing, Construction and Demolition, and other applications. Machinex provides you the system you need- a dependable, durable, high-performance equipment tailored to your specific requirements. Machinex also offers a full range of high quality recycling equipment such as Ballistic Separators, Optical Sorters, Disc Screens Separators, Balers, Trommels, Conveyors and much more. via http://www.machinextechnologies.com
7. Mayfran International
Mayfran International was established in Cleveland in 1933 and has been a global leader within recycling systems companies, for over 80 years providing engineered solutions, experience, integrity, and value to the recycling, solid waste processing, and metalworking industries. Mayfran produces in the US, Europe, and throughout the world. Mayfran became part of the Tsubaki Chain Group in 2012. Mayfran offers world class System Integration, Project Management, Customer Service and a wide range of proven solutions. via http://www.mayfran.com
8. National Recovery Technologies (NRT)
NRT is a leader in designing, manufacturing and installing optical sorting technology. Since our inception in 1981, our people have been industry thought-leaders and innovators. Today, they are one of the recycling systems companies applying their technology in automated industrial inspection systems, materials handling and process control, particularly in processing material for recycling. The team is focused on technology innovation, quality of manufacturing and a strong commitment to customer service. NRT has developed dozens of technologies and advances for use in Near Infrared (NIR), X-ray and RGB Camera Sorting applications and systems. via http://www.nrtsorters.com
9. Pinnacle Engineering Inc
Pinnacle Engineering is a provider of automated electrical controls equipment, panels, programming and engineering specialising in the recycling industry. We have provided control systems for over 100 shredder systems and 200 non ferrous recovery systems as well as single stream and MERF systems. We can provide assistance with small system modifications, onsite technical assistance, plant additions, control system upgrades and new plant control system layout and design. via http://www.pinnacle-eng.com
10 Plexus Recycling Technologies
Plexus Recycling Technologies, a distributor of innovative recycling solutions, scours the globe for high end, advanced technologies. By combining years of industry experience with strategic partners, they are changing the face of the environmental solutions industry. It's not enough to just be the best solution today, at Plexus Recycling Technologies we look toward the future! Plexus RT is the distributor for Andritz, Komptech, Matthiessen, Waste Treatment Technologies as well as ZenRobotics. via http://www.plexusrecyclingtechnologies.com
11. Revolution Systems
Revolution Systems offers an efficient, affordable solution for sorting single stream material in small communities. Our system is operable by one person if necessary and can run in a building as small as 5000 sq ft. Their one touch approach minimizes labor costs while eliminating the need to truck material to large MRFs for processing. They also offer solutions for most waste and recycling operations from conveyors and balers to shredders and compactors. via http://www.revolutionsystems.net
12. Spaleck USA LLC
Separation with experience – SPALECK since 1869. Customized solutions for conveying and separation processes. Highly efficient, custom-designed and on site absolutely reliable: SPALECK screens are focused on customer benefit. As one of the leading manufactures of recycling technology worldwide SPALECK is states that they are setting standards in the area of conveying and separation solutions. Due to their modular design you can integrate all SPALECK machines very easily into a client's business: Recycling Waste Screens, 3D-Combi-Flip-Flow Screens, Mobile Screens, Vibrating Conveyors, Infeed Units, Density Separators. via http://www.spaleck-us.com
13. Sparta Manufacturing
Sparta Manufacturing designs, builds, and integrates turnkey recycling systems for CandD, single stream, MSW, and organics. The company says they work closely with clients to turn their vision into a solidly planned and executed reality.
14. STADLER America LLC
Stadler offers a tailor-made full service, from conceptual design to planning, production, modernization, optimization, assembly, start-up, conversions, disassembly, maintenance and servicing of components to complete recycling and sorting systems. via http://www.w-stadler.com
15. TOMRA Sorting Inc
TOMRA Sorting Recycling is established in more than 50 global markets and offers a broad range of different sorting applications to separate a large variety of valuable fractions including plastics, metals and paper from waste. Their sorting systems recover clean material fractions, delivering significantly higher yields and increased value from the input material. They state that they can develop and implement bespoke recycling solutions for businesses. via http://www.tomra.com/recycling

16. VAN DYK Recycling Solutions
VAN DYK Recycling Solutions is a designer and system supplier of world-class recycling technology and the North American distributor for Bollegraaf, Lubo and TOMRA equipment. Our markets include single stream, commercial waste, CandD, MSW, waste-to-energy/fuel, presorted plastics, glass cleanup and e-waste. Technologies in their arsenal include high-capacity pre-press flap balers, sensor based sorters, PaperMagnets®, StarScreens®, density separators, air systems, trommel screens and more. Our turnkey service fully equips with design, installation, training, and lifelong support. via http://www.vdrs.com
---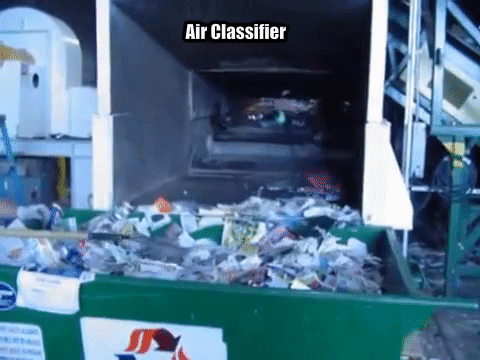 Source of this list of US Recycling Systems Companies:
List compiled from the exhibitor list for recycling systems companies, also commonly described as recycling equipment (MRF Systems) companies, at the 2018 WasteExpo, April 24-26, 2018, Las Vegas Convention Center, Central Halls, Las Vegas, NV, USA. (Services companies not are included in this list.)