10 million tonnes of metal was recycled in the UK in 2018, the British Metals Recycling Association reports. Recycling metal is one of the best ways we can reduce waste — and it's also essential for the environment. Recycling raw materials, including metals, slashes carbon emissions by 200 million tonnes each year. Whether ferrous or non-ferrous (like iron or steel), it's important we recycle metal to reduce waste, conserve energy, and reduce carbon emissions. Read on to find out what metals can be recycled.
Recycle steel to reduce greenhouse gas emissions
Steel is commonly found in vehicle parts and household appliances like washing machines, fridges and freezers. Currently, two-thirds of the UK's steel is made from primary production, while the remaining third comes from production off-cuts (not recycled material). A new report indicates primary production could be eliminated in 30 years if we recycle. This would reduce greenhouse gas emissions drastically — of which the global steel industry comprises 5%, making it one of the highest-emitting industrial sectors. Steel recycling relies on electric arc furnaces, which are much more energy efficient than the blast furnaces used to manufacture new steel. Moreover, the production of new steel actually uses up to 25% of recycled steel in the process, which makes recycling steel even more essential.
What about non-ferrous metals?
Metals are classified as either ferrous (containing iron, such as steel) or non-ferrous (all other metals). It's equally important to recycle non-ferrous metals, which can be re-used without losing their quality. Titanium, in particular, is a durable, versatile non-ferrous metal found in smartphones, laptops and protective cases, so it's important to recycle your old electronics. If you have scrap titanium like a titanium sheet, look for local businesses in your area offering to recycle non-ferrous metals. Payment depends on the classification and purity of the metal.
Copper: the world's most recycled metal
Copper is one of the most recycled metals in the world. In fact, 41% of copper in Europe is created from recycling. Recycling copper is energy efficient — only roughly 10-15% of the energy used to mine fresh copper is used during the recycling process. Recycling copper therefore helps protect the global supply of fossil fuels, as well as the environment. It's also much cheaper than mining new copper, while still retaining much of its value (recycled copper is worth up to 90% of the value of new copper). It's important to note that copper is a finite resource, so recycling it can help conserve it for future generations. Rather than throwing out the scrap copper around your home, look for ways you can recycle it instead. Copper is commonly found inside air conditioners, in plumbing pipes, and in roofing materials. You'll also find copper in electrical wires (just look underneath the plastic insulation). The good news is that copper is one of the most financially rewarding metals to recycle. You're sure to get a good price for it down at your local scrap yard.
Don't forget to recycle your old brass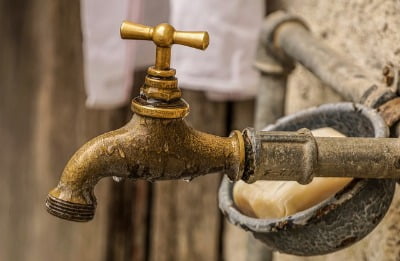 Brass is a copper and zinc-based alloy typically found in hardware, such as, keys, valves, light fixtures, bathroom fixtures and door handles. You'll also find it at the end of copper piping. Brass is a great metal to recycle, as there's no limit to the amount of times it can be recycled — which means it will always retain its physical value throughout the recycling process. Like other metals, recycling brass is better for the environment, since it keeps it out of landfills. Moreover, recycling brass uses less energy than is required to recycle metals like aluminium and steel. It therefore emits less greenhouse gas emissions overall. Even better, like copper, brass is also a financially rewarding scrap metal if you choose to recycle your old items. It's also a dense material, which means it quickly adds up in weight, so you can make a nice profit at the scrap yard.
Recycle zinc to save this finite natural resource
Zinc is another non-ferrous metal with a capacity for infinite recycling without risk of losing its chemical or physical properties. It's a versatile metal used in many household appliances and cars, but it's most commonly used to protect steel from corrosion by hot-dip galvanising. Currently, it's reported that roughly 70% of zinc primarily originates from zinc ores, while roughly 30% comes directly from recycled zinc (which also represents 80% of the zinc that's able to be recycled). As recycling technologies continue to advance, more and more zinc will be able to be recycled and improve these statistics. Zinc is naturally abundant in the Earth's crust, the first mile of which contains 224,000,000 million tonnes of zinc. Since zinc is a finite natural resource, it's important to conserve it, which the recycling process helps with greatly. As well as protecting natural reserves, recycling zinc saves energy and reduces harmful emissions released during the production process.
The importance of recycling aluminium
Last in our list of what metals can be recycled. Recycling aluminium saves roughly 95% of the energy required in primary production, and greatly cuts down on greenhouse gas emissions. To put that in perspective, it's the greenhouse gas equivalent of taking one million cars off the road for a whole year. Recycling one tonne of aluminium saves a whopping nine tonnes in CO2 emissions. All UK drink cans are made from aluminium, as well as foil, wrappers, bottle tops, and aerosols. In total, there's 192,000 tonnes of aluminium in the UK we should be recycling. Currently, 75% of aluminium cans and 52% of aluminium packaging is recycled, so it's important we work together to improve these statistics.
Conclusion to Why You Should Recycle Metals and What Metals Can be Recycled
Failing to recycle metals wastes energy and harms the environment by increasing greenhouse gas emissions. Taking steps to recycle metal is much more cost-effective and energy-efficient — recycled aluminium cans can end up back on the supermarket shelf within sixty days! So, instead of letting your scrap metal go to waste, make sure it's recycled and put to good use.