House Clearances and Minimising Waste
House clearance is the process of removing all of the household items from a property. "Green" house clearance is doing it with minimal impact on the environment through waste reduction, minimisation, reuse and recycling.
House clearance usually only becomes necessary when the occupant or occupants have died, or become so infirm that they need to be taken into care. It is never a particularly pleasant duty on either the close relatives or for social services departments within local councils. It takes time and effort to sort out and remove valuable and sentimental items before the clearance professionals arrive, and if relatives are grieving this may be a painful process.
Once those close to the departed occupant or occupants have removed all objects of value, there is a temptation to be rid of the mess, by the fastest means possible by sending all the items as rubbish to the nearest landfill or incineration facility. However, the whole exercise can easily be carried out in a series of stages which result in a very high rate of waste minimization through sorting, and the involvement of charities to remove all that has a resale value. If at all possible, the close relatives are those that initiate the minimisation of waste and it happens very naturally with goodwill among all relatives.
How Does "Green" House Clearance Work?
Once the last person in occupancy of a dwelling departs with all the possessions they want or need, a caring family or friend will usually be left in charge with the duty of clearance before the property is offered for sale on the housing market.
via GIPHY  Automated Waste Clearance?
The first stage of a "green" house clearance takes place when a delegated friend or relative sorts through all the possessions left by the departing person or couple. That person will be, as far as possible, in contact with all those close to the departed. In discussion with them, he or she will identify all items which each individual can use themselves, both for utility value and sentimental connections. This is when in conversation those close to a person say things like,
"I'd love to have a particular item to remember the departed person by",
and names an item.

Some people are talented as artists or may have crafted items with the result that they possess intrinsic value, others will have collections also valued by those close to them. Most will leave photograph albums, books, and wall art, which are best disseminated among friends and relatives of the departed. This not only preserves memories and is good for the mental health of all involved, but it is also wonderful waste avoidance!
Of course, the lifetime accumulation of possessions by the majority of people will be much larger than can be re-housed and reused by friend and relatives. Thus, once all the "family treasures, heirlooms, and trophies" have been redistributed some may simply call in a professional house clearance company at that point. Unfortunately, although the clearance company may be highly efficient at "recycling", recycling to the waste industry generally means "recycling the materials". That is not the most "green" way to do things, what is better is for the next of kin to carry out a process of finding the right people and places for reuse of as many items as possible, before calling in a house clearance contractor.
Obtaining Complete House Clearances at a Competitive Price
For waste clearance contractors engaged to complete green house clearances at a competitive price, this isn't very easy for them. That's because re-homing objects of a great variety will take them a lot of time and careful thought, and if the cost is for work by their paid employees that it isn't cost-effective. Charity organisations can and will be very pleased to accept almost any type of goods which are in a good, clean, and well-maintained condition and a whole host of charity shops have sprung up throughout the nation's high streets to sell such goods.
However, cleaning these goods and getting them into the charities/ shops where they are then sold profitably is time-consuming work. The best waste minimization practice is followed when a relative or friend is willing to devote time to calling each local charity, and asking them about the range of goods they are able to sell. Each charity will provide a list of the goods they are set-up to handle, and examples are as follows:
Books – to charity booksellers who are able to inspect each book and allocate a rating for the degree of wear or damage. In this way, the maximum financial value is achieved with the best books with rarity value being dispatched to specialist sellers, or resellers such as Amazon to fetch a premium price.
Electrical goods – to those charity sellers who are set up to carry PAT testing to comply with electrical safety regulations. Not every charity organisation does his and those that do must employ fully trained and qualified electrical testing technicians, many of whom are qualified to safely rewire and carry out basic overhaul and maintenance work on common electrical goods so that they can be reused. In fact, this can provide a healthy profit for those charities skilled to do this, while at the same time training apprentices in a trade which may become a life-skill for them.
Musical instruments – to be checked-over re-strung and tuned for sale.
Medical Devices – should be looked at closely first of all to see whether they have been issued by the NHS. If not, the specialist charities for specific ailments are the most likely best recipients to whom you can make contact to offer each device.
Furniture – while accepted by many charities is only accepted by those with large enough premises to stock and display furniture. Many will send a volunteer to the house to view the furniture. On inspection, they will identify those items on which they can make a profit through selling. Unfortunately, much modern flat-pack furniture has no resale value and if on inspection they decline to take such furniture it will remain for disposal as waste by a green house clearance contractor.
Medical Devices
If medical devices are on loan from the NHS, the responsible action is to contact your local health service via their hospital or local health trust website and find out where they accept the drop-off of unwanted equipment. In general, they will be very grateful to receive all returned equipment, and doing so is performing a public service in helping them keep costs down. This is also a very "green" action, as by reusing this equipment less new equipment needs to be manufactured and in a small way your action reduces the depletion the world's reserves of raw materials. It means less energy, and less carbon dioxide emitting fossil fuel energy is used, in manufacturing new medical items.
Free House Clearances
While researching this article we discovered that a number 0f internet users search for free house clearances. We can see the logic which people are probably following. They no doubt recognise that there is value in the goods in a house and they assume that if a house clearance contractor gains the value of the goods that are cleared he will offer the service at no charge. While this may occur on rare occasions for the homes of the wealthy, we do not know of contractors which offer free green house clearance routinely.
Some may achieve complete house content clearance for free, but only on rare occasions.
What Clearance Can Cost
The reason you won't see free house clearances being offered is that in the UK with landfill fees at now over £100/ tonne delivered to the landfill site, and the cost of the time needed in sorting and selling house contents, it is very difficult to make free house clearance a viable business proposition. Sorting waste into the main recycling waste streams can cost the contractor £30 to £40 per tonne, and with COVID-19 and already depressed markets for most recycled materials, there is little if any money to be made from the sale of the recycled materials. The exception is that rates for recycled metals and just a very few other materials remain reasonable, provided the waste is clear and free from impurities.
Quick and cost-effective green house clearances and removal services are available throughout the UK, and most also hold a commendable record for their recycling percentages achieved. If you find one that can offer a free clearance service we would like to hear from you about it. Please use our comments box below to tell us about it.
Organising a green house clearance with the best house clearance contractors is quick and easy. Follow the step-by-step instructions on their websites and they will make arrangements for a stress-free collection of your household items. It's a good idea to enter your postcode to allow them to confirm if they are able to offer house clearances in your area. If you apply to some of the largest rubbish removal contractors with multiple depots they will arrange for their local team to get in touch. They will usually arrange to make a visit to carry out a no-obligation assessment at your property, at a time that suits you.

Get Paid For House Clearance
It is possible to get paid for house clearance. If selling the old items or disposing of the belongings of a deceased loved one is too difficult for a person, then green house clearance businesses will do this job. They will dispose of unwanted items, clutter, recyclables, and junk, for a fee. They can also sell positives, valuable content, to shops for payment. If you run one such junk clearance and removals company you can get paid for house clearance.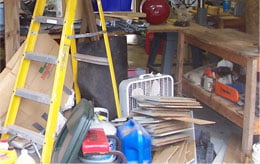 However, not just anyone in the UK is allowed to collect and transport waste materials You need to be registered a waste carrier by the Environment Agency. In order to do so legally any person must set up a company and that company must comply with regulations which require registration of the business, as a waste carrier. This is done by the government to stop fly-by-night, illegal tipping operators. Illegal waste companies cheat their clients and damage the environment for all of us by "fly-tipping" their collected rubbish. They charge for waste disposal to a landfill, or a suitable waste processing facility, but instead, they offload the waste for free. This is highly impactful on the environment in the worst way possible.
Such people think that they can get paid for house clearance, and dispose of it for nothing, unseen in the dark, down a quiet lane!
To them, pocketing the waste disposal fees might seem highly rewarding due to the high cost of landfilling charges. The fly-tipper doesn't think he will have to pay.
Such individuals are deluded.
Sooner or later these people will be prosecuted and heavily fined. When on re-applying for waste carriers licence they will be refused. In effect, their businesses will be taken away from them.
House Clearance Free Collection
Emptying a property or getting rid of unwanted furniture or white goods can seem to be not only a daunting task but an expensive one as well.  House clearance by free collection may be offered by some charities for items which they can sell for a profit. As described earlier, a truly green way to clear a house is to call as many charities as possible with one specialising in each type of goods that need to be cleared. However, they will not usually remove items which would cost them money to get taken away.
via GIPHY – Waste Clearance but not as we know it!
For myself in my location, I would do an online search for a local specialist in rubbish removal Birmingham. Such businesses can help with anything from single item waste collection to a full green house clearance. But, take care not to engage a rubbish removal company which is not properly licenced as a waste carrier. The best way to ensure that is to choose a company which shows its official waste carrier number in a prominent position throughout their website. Be suspicious if a waste company doesn't show you their waste carrier number because they might be operating illegally.
A professional house clearance service provider knows how to handle all items perfectly. From furniture and electronics to appliances, all materials will be well-handled to ensure no damages occur. Since they are used to doing clearance tasks, performing such activities will be quick and easy. Clearance service providers also have specialised equipment enabling them to work efficiently. By using an experienced company, you will have a stress free experience.
Charity House Clearance
Need help to empty a house after a loved one has died? Charity house clearance may offer a helping hand for those items which they can sell. Rarely if ever, do they offer to clear the valuable items and all the junk? Charities, in this way, provide support to families facing the task and they do it by turning the contents removed into donations for the charity. Charities do not usually operate as waste carriers, as they only handle saleable goods.
Once contacted many charities will come to the house and collect.
Contacting a range of charities as described above, minimizes waste by reuse and is the best possible outcome! It is the best most sustainable action possible. Congratulate yourself for being as "green" as possible and helping reduce the impact your and your family are imposing on the environment!

House Clearance Sales for Hospice Fund Raising
Some hospice charities encourage others in their local community to organise green house clearance sales. Any proceeds of these sales are pledged to be given to the charity. Hospice charities provide care and comfort at some of the most difficult times of people's lives. The fee that those who will inherit the house will pay, and the proceeds from the sales of items during hospice house clearance sales, provide income to the hospice.
Always remember that the work of every hospice is to provide quality time for everyone patients and their loved ones in the final days of a person's life. Charities funded in this manner help provide expert and practical, specialist care for babies, children, young people and adults when they need it most.
Guide to Prices for House Clearance of Furniture and General Items
Sofa
1 SEATER – £20
3 SEATER – £30
2 SEATER – £25
4 SEATER OR CORNER SOFA – £40
Mattress
SINGLE MATTRESS – £15
DOUBLE MATTRESS – £20
KING-SIZE MATTRESS – £25
General Items
FLUORESCENT TUBE – £4
TYRE – £4
TV – £15
SINGLE FRIDGE – £25
DOUBLE FRIDGE / FREEZER – £40
AMERICAN FRIDGE – £50
BIN BAG £1.50
These guide prices were current on 30 November 2020.
House Clearance Auctions Are Green
House clearance auctions are offered by some experienced green house clearance companies. This is actually really a "green" thing to do as the auctioned goods will be reused and will not be landfilled in the near future. They will instead be treasured by their new owners after the auction ends. The best policy is to obtain at least 3 quotes to assess which are the best value for money auction services you can buy when it comes to house clearance auctions and removals.
House clearance auctions can be well worth attending as they often include eclectic collectable items. For those that know about them and attend on the day, these can quite often be picked up for a very cheap price.
For example, shortly before Christmas 2019, a famous guitarist and YouTube sensation sent us an auctioneer's grainy image of an old Stratocaster guitar that was due to be sold at auction the following morning near here. The details provided were sketchy, to say the least. However, he tipped as off that by looking for some unique features on it before the auction we would be able to verify the provenance of that guitar. Sure enough, we attended and bid on his behalf and we found the guitar was indeed the extremely sought after one that he suspected it might be. We bid on his behalf, acquired the guitar for him, and were given a handsome commission. Later we read that when he sold it on just a few months later he made an astronomical profit!
It can be very worthwhile attending house clearance auctions, as there are often many bargains available to any bidder who "knows their antiques".

House Clearance Services
House clearance and junk removal services are offered by companies for interested clients or homeowners. Suppose you need an entire building to be cleared. In that case, you can usually find one or two who have a network of clearing and property removal experts who are available and ready to provide an excellent service.
If you are looking for full house clearance, a partial clearance or just one particular bulky item to be removed, rubbish collection teams are available. Those employed by junk clearance removals companies can help. Waste removal networks stretch nationwide across England, Wales, Scotland and Ireland. In the best of these networks, all the participating teams are guaranteed to be fully licensed and insured local independent operators. This means that they are small enough to be responsive, flexible enough to meet your exact needs, and will have useful local knowledge.
Make sure that you only engage professional and fully insured office or green house clearance services in your area. Check their testimonials to make sure that they will send you an experienced, hardworking team of professionals which will clear properties of any size. A good place to look for testimonials is to look at their Google My Business listing and if the company does not appear when you first look, select the "More" link to find your company. Google has ways of checking that those testimonials are genuine.  Thay way you are most likely appoint a well-known and reputable service with fully trained and experienced staff. Whether it's a domestic, commercial or industrial setting you need talented and sympathetic staff to help you.
House Clearance Companies
Most people today will need to use house clearance company professionals to get rid of surplus rubbish or junk from their house. The problem is that many people don't even know these companies exist and that they make moving so much easier! House clearance services are the ideal option for anybody looking to downsize or refresh their lives.
Even when carried out by experienced Waste Removal Contractors, many companies take more than a day if there is a large amount of household furniture and effects, sometimes when the occupant has been suffering from OCD or compulsive hoarding syndrome.
More Thoughts on House Clearance Costs
When a house is cleared there are many costs associated with the job and vary depending on the items cleared. Many councils across the UK operate a strict policy which must be adhered to.
The following, in particular, have to be cleared in a safe way:
asbestos
pesticides
fluorescent tubes
oils
paints
household and car batteries
discarded electrical equipment like TVs and computer monitors
fridges and freezers discarded
energy saving light bulbs (also known as CFLs)
mattresses
plasterboard
car tyres
For a standard house of 3 to 4 bedrooms with an average amount of household furniture and effects professional clearance can cost anywhere between £650 and £1, 500 on average but can vary considerably based upon various factors such as:
parking difficulty,
high rise flats with only stair access, and
high volume contained within the property.
There may be a garden clearance involved and this would incur additional charges.
Garages can sometimes have large quantities of toxic material such as paint and garden pesticides which will also incur additional charges.

The loft area can sometimes have large amounts of clutter and the house clearance company will have to take this into consideration when working out a quotation.
Some clearance contractors say that they save you cost through the large size of their vehicles. Larger vehicles mean fewer trips. They say that they can clear most properties in a single day with a large vehicle because they don't need to keep running back and forth to the point of waste disposal and back again. We believe that it is more important to run a fleet equipped with the right vehicles to suit any clearance. A large vehicle may be too large for a particular route, in which case a smaller vehicle would be best. This helps lower costs to you. Big is not always the most beautiful!
However, with the huge pressure now placed on many contractors to offer a cheaper service, more homeowners are becoming concerned about where these items are actually ending up.
Also, it is important to be "green" in order to protect the planet and take measures whenever possible to preserve it. With this in mind, make sure you find out how much of the waste will be recycled, And, also check where any waste which cannot be reused or recycled will be disposed of.
Costs are not the only factor when you choose someone to remove the rubbish. The impact on the environment should also be kept to a minimum. Eco-friendly community resource networks which have high rates of reuse and recycling have joined together in some areas, to pick up goods which then become donations to good causes.
Conclusion to Our Article on House Clearance With Minimum Waste Through Reuse and Recycling
House and garden clearance experts have the experience that can provide you with top-quality house clearance services for affordable prices. It can be tough clearing your home, so why not hire the professional help that is offered and save yourself the effort!
It's easy to arrange – get in touch for a free quote. For us, in this area for garden clearance, we would go and search for "garden waste removal Birmingham" but you will need to replace "garden with your type of waste, and also replace "Birmingham" with your town or city. A most cost-effective way to bring prices down may be by choosing a clearance contractor who will be willing to factor in the resale value of your unwanted items.
Doing a house clearance can be such a hassle and a bother. It is undoubtedly a long and tedious process that requires a great deal of time. That is why it might be a good idea for you to hire a green house clearance company to do it for you. It would significantly speed up the clearing process.