Reliance on landfill in the UK is decreasing, but is zero waste to landfill and the end of landfill a real prospect in the foreseeable future?
Current Progress to Zero Waste to Landfill
The latest waste data from the Environment Agency (EA) shows that reliance on landfill in England and Wales continues to decrease, with small increases in inputs to other treatment facilities, particularly materials recovery and incineration plants.
The total amount of waste has not changed markedly, but landfill deposits have fallen, slowly but steadily, since 2001. In a nutshell the waste sent to landfill has been fallen since the start of the 21st century. So, eventually a downward trend in landfilling, will one day lead to the end of landfill in the UK.
That has been achieved by rising inputs to licensed treatment facilities and with government investment programmes set-up largely under Labour governments up to the commencement of Conservative rule in 2010, have increased significantly.
Evidence of the UK's Progress Toward the End of Landfill
Figure 3.2: Local Authority collected waste management, England, 2000/01 to 2014/15, below shows the downward trend very clearly.
By simple projection of the current trend it would seem that zero waste to landfill will take place in about 7 years time, say 2023.
The full report can be viewed on this UK Government page. So, watch out for the the end of landfill in the UK!
The general public truly hate to have a landfill anywhere near their homes, so isn't that great news!
Also, the many UK landfills already in existence, pose a massive threat of water pollution in the future.
So, it would be madness for society to continue to create more and more of them, into the future. Zero waste makes sense…
But, Showing a Trend, Doesn't Mean "Zero Waste" Will Ever Happen…
Is this apparent victory, one which will really become reality in the UK?
The question of when will be the the end of landfill in the UK, is the obvious one of:
Is this wonderful achievement really so close to actually coming about?
Can it be true that the UK will never need more landfills?
Not The End of Landfill…
Sadly, the advent of conservative governments with their application of an austerity, and anti-PPI Contract policy in 2010/11, hit new waste management contracts hard.
The result has been that the Labour government's investment programme (which took about 10+ years in the planning), largely ceased by 2012. The lack new waste diversion capacity coming on-stream, is now being seen in the figures.
As these projects take 5 to 10 years to be built, the fruits of withdrawing that investment in new projects, will be seen in the years to come.
That's the root cause of lack of decline in landfill waste tonnages now being seen.
The lead time for new landfill diversion capacity is long. New public investment will be needed, but when this will start is not known.
That means that the effects of austerity policies, will continue to be seen in the waste to landfill figures.
From now on, a stagnating figure for waste sent to landfill can be expected, unless/ until circular economy policy begins to work.
Can the Trend of Falling Waste to Landfill Continue and All UK Landfill Cease in 2023?
While writing this article the author was unable to find any UK government data with any predictions the end of landfill in the UK. No assessment of how low the annual tonnage of waste disposed to landfill will be in 2023. So, the author would hazard a guess that a significant tonnage will still be being sent to landfill in 2023.
This lack of direction from the present government needs to be corrected, with new investment started very soon, if the government are going to meet the expectations of the UK public who are generally very much in favour of a "zero waste" to landfill policy.
It remains to be seen whether the present UK government has any intention to resurrect previous promises for "zero waste" and the end of landfill, in England and Wales.
Does the UK Have as Much Landfill Capacity as it Will Ever Need, or will The UK Soon Need New Landfills?
The UK Government/ EA estimated back in 2008 that, given the reduced demand for landfill and a small increase in capacity, there was an average of seven years' tipping space left for England and Wales. (CIWM Members Journal article, May 2008 Edition, page 16).
That would have meant that there would be no landfill capacity left in the UK, by 2015. Clearly, that never happened, and there is still no problem with landfill capacity in most UK areas. Few, if any sizable landfills have been opened since 2008 in the UK, and yet there is still plenty of landfill capacity available. That estimate must have been widely inaccurate. However, existing landfill capacity WILL become exhausted soon.
The Pressure for New Landfills Will Start in the South East
Naturally, the number of landfills which will be needed is not equally spread across the countries. The "London effect" means that the East of England, London and the South East operate almost as a single waste market. Together they had, even at that time, only a predicted five years' of tipping space left. However, again this must have been well below the actual capacity available, as there are no forecasts of imminent lack of landfill space throughout the south-east of the UK.
Capacity is still thought to be greatest in the Midlands and North East, with Wales just above the average.
The End of Landfill?
Future capacity is a function of waste generated then sent to landfill and available facilities. We know that waste-arisings have stabilised and that less is being sent to landfill, so what do we know about the number of existing facilities and new ones coming on-stream?
Of the near 9000 waste management licences current in 2006, less than 20 percent were for landfill. The numbers are even starker when considering active licences; less than 600 licensed landfills were active in the period, just 10 percent of the total facilities. The figures have dropped substantially further, since that date.
The EA claimed in 2008, that there would continue to be a small increase in landfill capacity. But, there is little evidence of this in their figures. Only five new landfill licences were issued in 2006. That was an extremely small increase when compared with the past. However, the rate of landfill disposal means that the need for more landfill capacity will continue.
It will be at a lower, but nonetheless significant level after 2023.
New Landfills Will be Needed for After 2023
It is unfortunate to have to conclude therefore, that due to the need for still further investment in waste processing, waste minimisation, and re-use plus recycling, new landfills will be needed beyond 2023.
Zero waste in the UK, is not likely now, before 2030. To be achieved even then would require this conservative government to start investing again at a high level of spending in new local authority waste processing facilities in this parliament.
That is highly unlikely, especially given the high state of uncertainty throughout the UK surrounding the UK' pending exit from the European Union. Perhaps a greater understanding of the driving factors behind the decline in landfill capacity and the reduction in waste-arisings would leave us better able to predict the future?
In the past 40 years, the UK has been dragged forward in its waste management practices by the other EU nations. These were especially France and Germany, which began investing much sooner in cleaner recycling and incineration technologies than the UK. The EU as a legally binding driving force toward "Zero Waste" will disappear, as soon as the UK leave the EU.
Only UK public opinion will be left to drive the UK through those last all-important steps to realise full "zero waste" to landfill.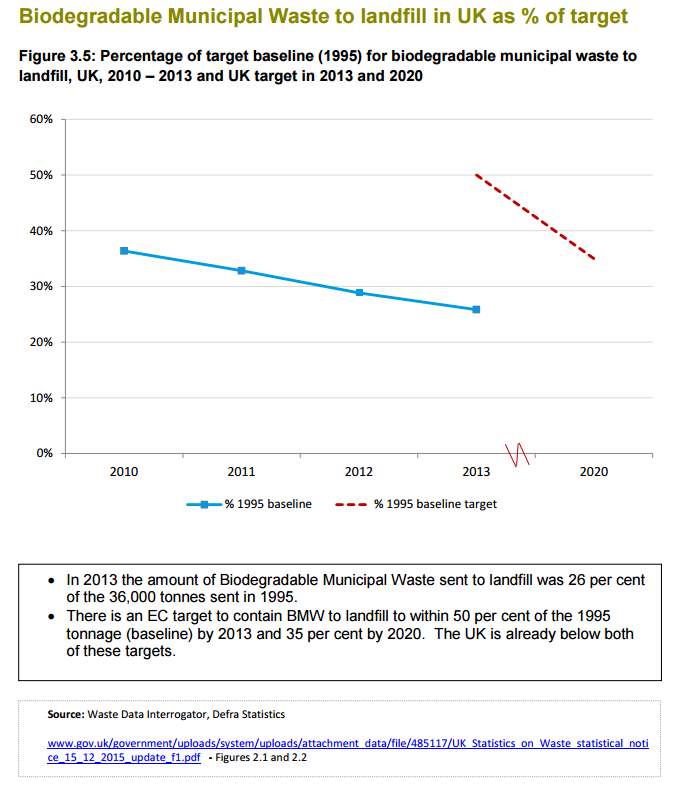 Zero Waste or a Minimum Demand for an Internationally Acceptable Waste Policy
Will public opinion alone be enough, post EU membership, to see the UK adopt an internationally acceptable waste management policy? Let alone achieve "Zero Waste?
That is very much an open question now.
Public opinion expressed against all waste facility development, landfill and incineration is still strong.
Reducing demand for existing landfill space, inevitably resulted in a sharp reduction in applications. Consequently new licences/permits for landfill, since 2008 have dropped to near zero.
But, probably the biggest slow-down in new landfill applications has been the inability of the waste management companies to make a good return on their investment in landfills, due to excess landfill capacity.
That will change over the coming years, as landfills fill-up and are not replaced. Competition between landfill operators, for the available waste going to landfill, will reduce and profitability will rise.
Te bis waste companies will both want and NEED new landfills soon.
Expect Big NIMBY Battles to Stop New Landfills During the 2020s!
Financial pressures, including landfill tax, and a greater reliance on options towards the top of the hierarchy, as well as better management of our resources, have given rise to a significant reduction in commercial and industrial wastes disposed to landfill.
However, the big reductions seen in the later part or the 2000s, which were largely a result of the commercial and industrial sectors realising what landfilling was costing them.
Landfill tax had risen to the extent that landfill disposal was costing them more than recycling, so many of them raised their recycling rates to SAVE MONEY.
Those rapid gains in recycling rates and waste diversion have now been exhausted.
The result of the fiscal "landfill tax elevator" was that the great majority of companies started carrying out their own in-house recycling, in conjunction with the onward disposal of their segregated waste streams to recycling companies. The drop in annual waste sent to landfill from that effect has now been largely worked out of the system.
The Verdict on Zero Waste in England and Wales – Not Before 2030 if Then…
The question is still, (as was the case in the CIWM's 2008 article), will the rate of decline of both numbers of landfills and waste deposited in them result in an end to landfill? Will it occur within the foreseeable future?
The simple answer is, not in the short-term and, to misquote Mark Twain:
"reports of the death of landfill are greatly exaggerated."
NIMBY: "Not in my backyard"; The real basis for most objections to landfill sites.