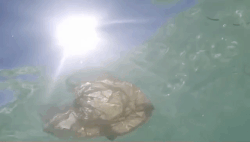 Since our first article in 2006 plastic waste has reached every one of the world's oceans, no matter how wild or remote. Microplastics on the other hand are lurking in the sand, and they harm smaller marine life. So, we decided to update our readers as follows:
Latest Notes on the Worsening Floating Rubbish Dumps in Global Oceans (July 2019)
One type of microplastic has even been given a popular name of "Nurdles". These nasties are also known as "mermaids' tears", and are plastic pellets, typically under five millimetres in diameter.
They might not be so obvious as larger plastic debris. But, they are a major component of marine debris.
They are the raw material which are used in plastics manufacturing. They enter the natural environment when spilled and many have been spilled. Over a period of time, weathering produces ever smaller pieces. Look long enough at beach sand and you'll see some.
Container Ship Plastic that Never Even Gets Seen or Used by Human Hands
An estimated 10,000 containers at sea each year are lost by container ships, usually during storms.
One spillage occurred in the Pacific Ocean in 1992, when thousands of rubber ducks and other toys (now known as the "Friendly Floatees") went overboard during a storm. The toys have since been found all over the world, incidentally at the same time providing a better understanding of ocean currents.
Floating Rubbish Accumulations
Some studies show that marine debris is more of a problem in some places than others, because it tends to collect in particular locations.
The Great Pacific Garbage Patch
The Great Pacific Garbage Patch has formed where the currents of the "North Pacific Gyre", spiral inwards, depositing huge tonnages of floating (mostly plastic) debris in the convergence zone.
Once waterborne, the awful debris seldom ceases to move around. This modern form of flotsam can be blown by the wind, or follow the flow of ocean currents.
Flotsom Accumulates in "Oceanic Gyres" in ever Rising Volumes
When it ends up in the middle of oceanic gyres where the currents are weakest, it just stays there. More material arrives all the time .
The Great Pacific Garbage Patch is one such example of this, comprising a vast region of the North Pacific Ocean rich with anthropogenic wastes.
Some patches will be large enough to be viewed by satellite.
Over 40% of oceans are classified by experts as subtropical gyres. The result is that a quarter of the planet's surface area has become an accumulator of floating plastic debris. via en.wikipedia.org
But let's not be persimistic about it. Nothing will get any better unless we take action, and many countries are at last waking up to this problem. The following article explains what one company plans to do:
---
[box type="alert" size="large" style="rounded" border="full"]UPDATE 2018: The following is a roundup of the updates on marine pollution. Since we first posted about it the problem has become far worse as the reader will read below. The only saving grace in this sad situation of marine pollution, is that there is now action taking place in many places to clean-up the waste.[/box]
Plans To Take Care Of Great Pacific Garbage Patch Floating Rubbish Dump
Wednesday, March 28, 2018
A giant island composed of plastic waste thrice the size of France is floating in the Pacific Ocean.
The Great Pacific Garbage Patch (GPGP) contains 1.8 trillion pieces of plastic weighing 80,000 metric tons. It is located between Hawaii and California, which has the distinction of being the world's largest accumulation zone for ocean plastics because it just happens to be where multiple sea currents meet and where the (mostly) plastic mass churns.
"one of the costliest man-made disasters in history"
The GPGP was on Risk Management Monitor's radar back in 2014 (and prior to that, as well) and even then, it was already considered one of the costliest man-made disasters in history. But new developments from the Ocean Cleanup Foundation (OCF) confirmed that the buoyant junk heap exceeds earlier projections of its size and scope.
According to the OCF, the newly released estimates are four to 16 times higher than previously expected for the GPGP's overall size. 92% of the mass is represented by larger objects; while only 8% of the mass is contained in microplastics, defined as pieces smaller than a quarter-inch in size.
"We were surprised by the amount of large plastic objects we encountered," said Dr. Julia Reisser, chief scientist of the expeditions. "We used to think most of the debris consists of small fragments, but this new analysis shines a new light on the scope of the debris."
The OCF has removal plans in motion and scientists said this situation also highlights the need for stronger recycling efforts.
Boyan Slat, founder of the OCF and co-author of the study, elaborated on the relevance of the findings for his organisation's cleanup plans:
"To be able to solve a problem, we believe it is essential to first understand it. These results provide us with key data to develop and test our cleanup technology, but it also underlines the urgency of dealing with the plastic pollution problem. Since the results indicate that the amount of hazardous microplastics is set to increase more than tenfold if left to fragment, the time to start is now."
OCF, which is privately funded, plans to remove the plastic heap using an autonomous floating system (composed of high-density polyethylene, a durable and recyclable material) designed to capture small plastic particles less than a half-inch and as large as tens of yards wide. Cleanup is expected to begin in the next six months and OCF models indicate that half of the GPGP can be removed by 2023.
According to its website:
By removing the plastic while most of it is still large, we prevent it from breaking down into dangerous microplastics. Combining the cleanup with source reduction on land paves the road towards a plastic-free ocean in 2050.
Unfortunately, such a huge environmental risk is not limited to the Pacific.
Last month, a study released in Frontiers in Marine Science found lots of microplastics in the fish and marine life of the North Atlantic Ocean. via The Planet's Plastic Garbage Problem
---
Tonnes of plastic waste cover river in southern Mexico
Shocking scenes of vast quantities of plastic waste floating along a river in Mexico's southern Chiapas state. According to reports, the source of the floating rubbish dump – mostly plastic, discarded wood and construction waste are neighbourhoods nearby the river. via PlasticWasteCoversRiver
Chennai River Cooum: Bloom placers filter floating garbage in Cooum River
CHENNAI: River Cooum has become largely free of floating non-biodegradable materials, as PWD have placed 'bloom placers' at eight locations.
These barriers filter the flow and block movement of waste material dumped in the river. They are effective during the monsoon, as they would allow free flow of water from the downstream towards the upstream before culminating into the sea, say PWD officials.
Accumulation of this non-bio degradable (floating rubbish dump) material on water surface will block penetration of sunlight into the water, resulting in poor oxygen levels and increasing the quantity of acidic material in the water. Due to this, gas formation will happen under water, which at times will become even toxic, say experts.
While the PWD is in the process of deepening and desilting the water body, the corporation, on its part, is working on removing encroachments along the bank and put up 'bloom placers' at eight places along the river course. All the floating garbage from the river are cleared periodically. via Bloom placers filter floating garbage in Cooum River
---
A Floating Rubbish Dump on the Jordan River threatens entire species of waterfowl, but a new project aims to fix that
Original Article posted on Nov 12, 2006:
It's not just the oceans that are plagued by a floating rubbish dump of plastic — Utah's inland sea has a trash problem of its own, and conservationists hope that installing a sort of filter on the Jordan River will put a stop to it.
Unveiled Monday, a new floating "trash boom" is being installed on the river above Farmington Bay that will help skim off massive amounts of flowing garbage and debris, preventing it from reaching open waters, sensitive wetlands and bird habitat of the Great Salt Lake.
The lake provides critical migratory habitat for thousands of waterfowl. But it's also a terminal lake, meaning it is a collection point for most of the runoff from surrounding mountains.
That same collection effect happens with whatever pollutants happen to be floating in local waterways as well. So when residents on the Wasatch Front litter, their trash is often washed out to the Great Salt Lake or one of its adjacent wetlands, where it can strangle or drown curious waterfowl. via Floating trash Jordan River project to fix that
A 'floating rubbish dump' has been reported by Greenpeace. They describe a floating plastic trash vortex which swells to cover an area the size of Texas, and it is threatening wildlife in the Pacific.
Due to prevailing currents and wind, huge masses of waste dumped in the seas accumulate in the North Pacific.
As most plastics tend to float and take a long time to biodegrade, much of this waste is plastic based. It consists of everything from carrier bags and condoms to toothbrushes and discarded fishing nets.
Greenpeace says that:
"In order to counter all the threats to the oceans – from pollution to over-fishing and habitat destruction – the world needs to realise that ocean protection must begin on land."
The Greenpeace report concludes that while agreements such as the International Convention for the Prevention of Pollution from Ships go some way towards addressing the problems of waste discarded by mariners. This will do little to stem the tide of waste. The real solution requires action on land-based waste management.
Greenpeace says that to solve the floating rubbish dump problem:
"Public education programmes and increased efforts on reducing waste are needed to protect marine life, and protected areas such as the Hawaiian reserve announced by the USA should be put in place to cover 40% of the world's oceans."
via FloatingRubbishGreenpeace Source: www.edie.net
The Waster says: "Everyone get ready to do a bit of litter picking then?"
---