Let's start by making sure that all our readers understand what landfill gas utilisation is.
Just a moment…
Landfill gas is a renewable energy resource that can be used for a variety of purposes. It can be used to generate electricity on-site, used to provide heat, or sold for use as a natural gas substitute. However, landfill gas has certain limitations and should be treated before it can be distributed. The process involves removing various contaminants and components from the waste. The amount of treatment required depends on the type of waste and how the gas is used.
Landfill Gas Utilisation requires landfill gas collection, active landfill gas production by the landfill and its export as a power source (say electricity to the power grid) or renewable CNG (Renewable  Compressed Natural Gas)
Landfill Gas Collection
The collection of landfill gas is usually done through wells installed in the waste mass. These wells should be spaced 50 to 200 feet apart. Both open and closed landfills can be successfully used to extract gas from the waste mass. Closed landfills have more efficient systems and collection infrastructure, which enable them to capture up to 85% of landfill gas during the active extraction phase while extraction systems are operating.
Landfill Gas Production
Landfill gas production is affected by the type of waste deposited in the landfill and the local atmospheric conditions. Municipal solid waste, for example, contains approximately 150-250 kilograms of organic carbon per tonne, and this is broken down by microorganisms and transformed into landfill gas. The process can be used as a clean, renewable source of energy for homes, businesses, and industrial operations.
Hong Kong Experience
In Hong Kong, the Landfill Gas Utilisation Project at the South East New Territories Landfill was recently officially commissioned. It is the third landfill gas utilisation project in the territory and will convert excess LFG into synthetic natural gas. This gas will be supplied to the local Towngas grid and to the Hong Kong and China Gas Company Limited grids. In addition to helping the environment, this natural gas will also help reduce emissions of greenhouse gases.
Landfill Gas to Electricity
Landfill gas can also be converted into electricity. This electricity can be sold commercially or used on-site. Some landfills may have as much as 25 MW of electricity. However, the process can be costly, and the benefits are not immediate. The investment required in this process will depend on the size and location of the landfill.

Process of Landfill Gas Utilisation
The process of landfill gas utilisation involves several steps that must be undertaken in order to ensure a clean, renewable energy source. The first step is to assess the environmental impact of a project. This process of extraction can take up to 20 years. During this period, the evolution of landfill gas will slow down. In addition, this process may require a decade of waste input at the landfill before it reaches its maximum rate of output.
Landfill gas is generated when organic materials decompose in landfills under anaerobic conditions. While landfill gas is mainly methane, it contains about 40% of carbon dioxide as well. There are also some other compounds present in landfill gas, such as carbon dioxide and nitrogen.
---
In 2007, when we first posted this article about Landfill Gas Utilisation for LFG Profits, we said that the US was still waking up to the potential to make money from collecting and selling landfill gas energy.
However, it was not until 10 years later in 2017, that the US government instigated the LMOP programme. LMOP stands for "Landfill Methane Outreach Programme". This initiative has accelerated LFG utilisation in the US, and some states now also require Landfill Gas Collection for flaring at all landfills, so that the very highly damaging greenhouse gas effects of the methane in landfill gas are at least ameliorated.
Basic Information About Landfill Gas
In March 2022, 541 operational LFU energy projects were operating, and a further 474 landfills could potentially be considered for projects. Landfill gas is produced by decomposition from waste and landfills. LFG is composed of about 50% methane (the most important component of natural gas), and 50% CO2. Methane is up to 80 times more damaging in its effect than CO2 at raising atmospheric temperature 100 years ago, per the latest EPA website.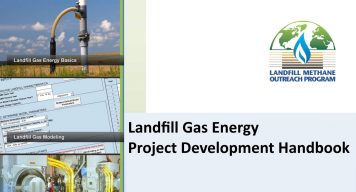 The LFG Energy Project Development Handbook was published in 2017. and provides The handbook provides an overview of landfill gas (LFG) energy project development guidance and presents the technological, economic and regulatory considerations that affect the feasibility and success of LFG energy projects.
Landfill owners, energy service providers, end users, representatives of state agencies and local government, community members and other interested stakeholders will benefit from the information provided in this handbook as they work together to develop successful LFG energy projects.
The handbook presents national statistics that reflect LMOP's Landfill and LFG Energy Project Database as of June 2017. Project cost estimates are presented in this handbook, with links to a number of LFG project design tools. The data shows a very large undeveloped resource exists. via LMOP Handbook.
About LMOP
The Landfill Methane Outreach Program (LMOP) is a voluntary program that works cooperatively with industry stakeholders and waste officials to reduce or avoid methane emissions from landfills. via LMOP LFG Project Handbook.

Facts About US Landfills as Energy Providers Leading to Landfill Gas Profits
MSW landfills are the third largest human-caused source of methane in the United States, accounting for approximately 15.4% of U.S. methane emissions in 2015.
Every million tons of MSW in a landfill is estimated to be able to produce approximately 300 cubic feet per minute of LFG. Through various technologies, this amount of LFG could generate approximately 0.78 megawatts of power, or provide 9 million Btu per hour of thermal energy.
This is a resource that, when utilised at the right landfills, can almost certainly produce a very healthy income for the landfill owners. Throughout the EU, and many other nations, the view has been for many years that, even without profitability, landfill gas should always be collected (and at least flared off) in order to minimise climate change.
The waste industry in the US has always been aware of the potential for landfill gas utilisation and the large waste management companies were even in 2007, implementing schemes alongside enlightened. The following is the original Press Release which sparked our interest in this subject, back in 2007:
Landfill Gas Utilisation could help Rockingham earn $1 million per year
11 August 2007: WENTWORTH, N.C. Rockingham County could generate $1 million annually by capturing the methane gas emitting from its unused landfills, according to a study produced for county commissioners.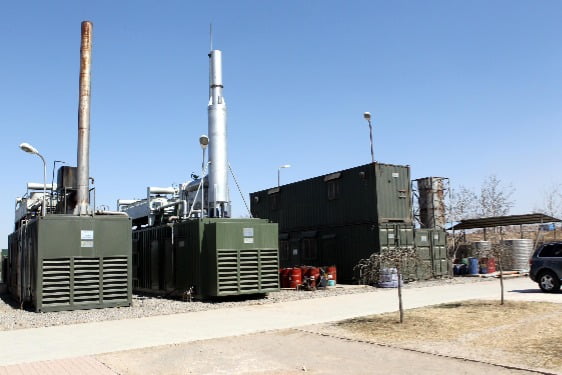 Energy researchers from Appalachian State University found that the county, a mostly rural area bordering the Virginia line, could earn $300,000 annually from its already-closed landfills and up to $1 million per year when another landfill closes in several years. Very healthy landfill gas utilisation profits.
Rachel Goldstein, program manager for the Environmental Protection Agency's Landfill Outreach Program, said recent energy crunches have encouraged companies and governments to capture the potential of landfill gas.
Landfill gas utilisation can be very worthwhile.
Several companies and governments in North Carolina already use the gas, including those in Greensboro, Winston Salem, Wake County and Mecklenburg County. Rockingham County, which is far less populated than those areas, is now looking at the technology.
"It just blew me away when I was originally reading that report",
County Manager Tom Robinson said of the potential revenue source. Read more at the Associated Press Web Site.

The Waster's view: Everyone has been saying for so long that landfill gas extraction and utilisation is now highly profitable once the gas collection systems have been installed for flaring, as required by the regulatory authorities in most nations. It seems surprising that the word has still not appeared, until now, fully penetrated the US waste management scene.
Next time a landfill gas specialist tells me that he has no more new sites to install systems into and that the "low hanging fruit in landfill gas is all-gone", I know what I am going to say!
I guess you will too if you read the report below:
How Waste Management Inc. is Making Money from Landfill Gas Utilisation
The items that do end up at the landfill can in some cases be converted to energy. At roughly 130 disposal sites, the company uses naturally-occurring landfill gas to power homes and businesses in the local region. Just recently, it even developed the technology to convert landfill gas into a fuel its fleet vehicles can run on.
I may use comedy in this article when I compare Waste Management to magicians, although to be frank, the company has proven its expertise in making your curbside trash vanish while you're at work, and then turn around and create usable forms of energy with it. Can you do that? I didn't think so.
Here are three ways the company provides energy, using landfill gas, as:
1. Electricity – generating electricity at power plants located either at their landfills or at a nearby business.
2. Alternative Fuel – piping it to their customers for use as a heating fuel to supplement (or replace) oil, coal and natural gas.

3. Processed Gas – cleaning and delivering it to transmission pipelines to perform in the same applications as natural gas.
And these aren't just theories, they're realities.
For example, the company's Suburban landfill in Savannah, GA which opened an energy plant just 9 years ago, has since been producing enough electricity to power 3,500 homes in and around Savannah.
Through this plant alone, the company is creating the energy equivalent of roughly 25,000 tons of coal.
Numbers say a lot, but what's most important to know is that communities are being powered by the same waste they generate.
Waste Management's renewable energy offerings, including landfill gas, will (it says) produce enough electricity to power two million homes by the year 2020. Amazingly the company is already making tremendous progress as it is more than halfway there, producing enough for 1.2 million homes. via  OwnThisStockForever
---
The following section was also part of our 2007 posting on this subject:
Landfill Gas Utilisation Doesn't Have to Mean Electricity Generation in the Following Innovative Proposal:
Dubuque landfill looking to turn gas into cash – KWWL
That's the aim of a project the Dubuque Metropolitan Area Solid Waste Agency is hoping to get off the ground.
As trash breaks down in the landfill, it creates a gas that's a mix of methane, oxygen, carbon dioxide and other trace elements.
The DMASWA has paid about $2 million for a system that collects and destroys most of that gas.  They pay about $100,000 every year to maintain and run the system.

But now they want to do more than just destroy it. They want to make money off of it.
While there are a number of options, the most feasible, they say, it's best to turn that gas into gasoline equivalents that can be sold to the transportation industry.
All told, they say the gas generated at the landfill in Dubuque translates to more than 1 million gallons of gasoline-equivalent.
The goal, they say, 10-15 years down the road, is to have "something that's able to clean the gas and create a marketable product. Now whether it's still being used as a transportation fuel at that point, whether we shift it over to electrical generation, or whether we shift it over to process fuel, gives that flexibility to the agency and to its private partner, really on how to maximize the physical value as well as the environmental value of the gas that we generate," said John Foster, DMASWA's administrator.
They're currently looking for a partner to help develop the system to clean and convert the gas, and then sell it. via Dubuque landfill looking to turn gas into cash
---
Biomethane From Landfill Gas Gets Big Thumbs Up From Waste Management Inc
Waste Management Inc. Discusses World's Largest Landfill Gas To Fuel Plant
As a start-up on the world's largest plant to convert landfill gas into clean vehicle fuel nears completion, joint venture partners Linde North America and Waste Management have begun to share details of the project. The companies are installing systems at WM's Altamont Landfill near Livermore, CA that will purify and liquefy landfill gas, a renewable source of biomethane fuel. When the $15.5 million plant begins operating later this year, it is designed to produce up to 13,000 gallons a day of liquefied natural gas (LNG) that could fuel hundreds of waste collection vehicles.
Bryan Luftglass, Manager of Anaerobic Digestion process partner Linde North America's Energy Segment said, "Biomethane is a truly renewable and readily available green source of high-quality fuel."
Although it is still an emerging commodity, its economic and environmental value is rapidly being recognized." Kent Stoddard, Vice President of Public Affairs for Waste Management's West Group also commented saying, "Waste Management's partnership with Linde will allow us to tap into a valuable source of clean energy while greatly reducing our dependence on fossil fuels.
Natural gas is already the cleanest burning fuel available for our collection trucks and the opportunity to use recovered landfill gas offers enormous environmental benefits to the communities we serve."
SOURCE: Waste Management, Inc.

CONCLUSION
In the last century, LFG utilisation technology has risen dramatically with developed countries making good progress in converting this LFG into various kinds of energy.
It is important that this energy conversion takes place on an ever-larger scale.
Municipal landfills were the third-highest emitter of methane emissions from human activities in 2019. They account for 15.1 percentage points. In 2018, methane emissions at MSW landfill sites grew by almost 16% from its total annual emissions of nearly 21.6 million cars, compared to 11.6 million cars emissions. However, methane is a lost opportunity for the use of an important energy source.
Europe in its attempts to reduce MSW output has reduced the dumping of MSW on landfills at a large scale.
On the other hand, Africa is a largely undeveloped country in comparison to developed countries. Most MSW is disposed of in Africa in dumps and there are very few properly engineered landfill sites. These factors reduce the potential collection of LFG extraction and utilization.
Things are improving with more landfills producing landfill gas by the week. But although there is definitely plenty of planning the execution of plans to reduce landfill use.
The construction of landfill sites continues. So, many more landfills will soon be able to create energy from their landfill gas. How effectively this will be done is hard to conclude as there are numerous factors affecting LFG extraction, such as equipment performance and others such as capital, human and expertise.
---
[Article first published: 11 August 2007. Updated 8 September 2022.]