In 2007, when we first posted this article about Landfill Gas Utilisation for LFG Profits, we said that the US was still waking up to the potential to make money from collecting and selling landfill gas energy. However, it was not until 10 years later in 2017, that the US government instigated the LMOP programme. LMOP stands for "Landfill Methane Outreach Programme". This initiative has accelerated LFG utilisation in the US, and some states now also require Landfill Gas Collection for flaring at all landfills, so that the very highly damaging greenhouse gas effects of the methane in landfill gas are at least ameliorated.
Basic information about landfill gas
In March 2022, 541 operational LFU energy projects were operating, and a further 474 landfills could potentially be considered for projects. Landfill gas is produced by decomposition from waste and landfills. LFG is composed of about 50% methane (the most important component of natural gas), and 50% CO2. Methane is up to 80 times more damaging in its effect than CO2 at raising atmospheric temperature 100 years ago, per the latest EPA website.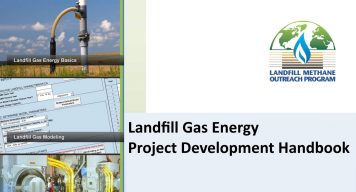 The LFG Energy Project Development Handbook was published in 2017. and provides The handbook provides an overview of landfill gas (LFG) energy project development guidance, and presents the technological, economic and regulatory considerations that affect the feasibility and success of LFG energy projects.
Landfill owners, energy service providers, end users, representatives of state agencies and local government, community members and other
interested stakeholders will benefit from information provided in this handbook as they work together to develop successful LFG energy projects.
The handbook presents national statistics that reflect LMOP's Landfill and LFG Energy Project Database as of June 2017. Project cost estimates  are presented in this handbook , with links to a number of LFG project design tools.The data shows a very large undeveloped resource exists. via LMOP Handbook.
About LMOP
The Landfill Methane Outreach Program (LMOP) is a voluntary program that works cooperatively with industry stakeholders and waste officials to reduce or avoid methane emissions from landfills. via LMOP LFG Project Handbook.
Facts About US Landfills as Energy Providers Leading to Landfill Gas Profits
MSW landfills are the third largest human caused source of methane in the United States, accounting for approximately 15.4 percent of U.S. methane emissions in 2015.
Every million tons of MSW in a landfill is estimated to be able to produce approximately 300 cubic feet per minute of LFG. Through various
technologies, this amount of LFG could generate approximately 0.78 megawatts of power, or provide 9 million Btu per hour of thermal energy.
This is a resource which, when utilised at the right landfills, can almost certainly produce a very healthy income for the landfill owners. Throughout the EU, and many other nations, the view has been for many years that, even without profitability, landfill gas should always be collected (and at least flared off) in order to minimise climate change.
The waste industry in the US has always been aware of the potential for landfill gas utilisation and the large waste management companies were even in 2007, implementing schemes alongside enlightened. The following is the original Press Release which sparked our interest in this subject, back in 2007:
Landfill Gas Utilisation could help Rockingham earn $1 million per year
11 August 2007: WENTWORTH, N.C. Rockingham County could generate $1 million annually by capturing the methane gas emitting from its unused landfills, according to a study produced for county commissioners.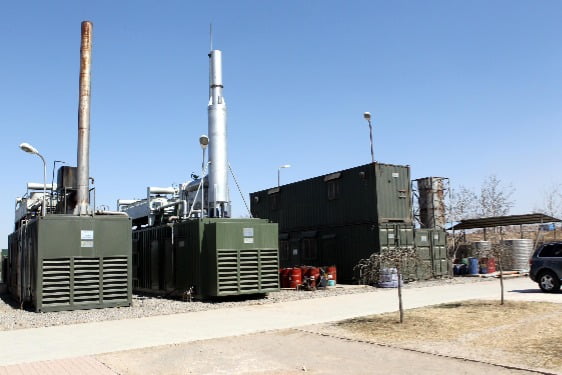 Energy researchers from Appalachian State University found that the county, a mostly rural area bordering the Virginia line, could earn $300,000 annually from its already-closed landfills and up to $1 million per year when another landfill closes in several years. Very healthy landfill gas utilisation profits.
Rachel Goldstein, program manager for the Environmental Protection Agency's Landfill Outreach Program, said recent energy crunches have encouraged companies and governments to capture the potential of the landfill gas. Landfill gas utilisation can be very worthwhile.
Several companies and governments in North Carolina already use the gas, including those in Greensboro, Winston Salem, Wake County and Mecklenburg County. Rockingham County, which is far less populated than those areas, is now looking at the technology.
"It just blew me away when I was originally reading that report",
County Manager Tom Robinson said of the potential revenue source. Read more at the Associated Press Web Site.
The Waster's view: Everyone has been saying for so long that landfill gas extraction and utilisation is now highly profitable once the gas collection systems have been installed for flaring, as required by the regulatory authorities in most nations. It seems surprising that the word has still not apparently, until now, fully penetrated the US waste management scene.
Next time a landfill gas specialist tells me that he has no more new sites to install systems into, and that the "low hanging fruit in landfill gas is all-gone", I know what I am going to say! I guess you will too, if you read the report below:
How Waste Management Inc. is Making Money from Landfill Gas Utilisation
The items that do end up at the landfill can in some cases be converted to energy. At roughly 130 disposal sites, the company uses naturally-occurring landfill gas to power homes and businesses in the local region. Just recently, it even developed the technology to convert landfill gas into a fuel its fleet vehicles can run on.
I may use comedy in this article when I compare Waste Management to magicians, although to be frank, the company has proven its expertise in making your curbside trash vanish while you're at work, and then turn around and create usable forms of energy with it. Can you do that? I didn't think so.
Here are three ways the company provides energy using landfill gas:
1. Electricity – generating electricity at power plants located either at our land-fill or at a nearby business.
2. Alternative Fuel – piping it to customers for use as a heating fuel to supplement (or replace) oil, coal and natural gas.
3. Processed Gas – cleaning and delivering it to transmission pipelines to perform the same applications as natural gas.
And these aren't just theories, they're realities. For example, at the company's Suburban land-fill in Savannah, GA that opened an energy plant just 9 years ago, has since been producing enough electricity to power 3,500 homes in and around Savannah. Through this plant alone, the company is creating the energy equivalent of roughly 25,000 tons of coal. Numbers say a lot, but what's most important to know is that communities are being powered by the same waste they generate.
According to the Renewable Brochure linked above, between all of Waste Management's renewable energy offerings, including landfill gas, it will produce enough electricity to power two million homes by the year 2020. Amazingly the company is already making tremendous progress as it is more than halfway there, producing enough for 1.2 million homes. via  OwnThisStockForever
The following section was also part of our 2007 posting on this subject:
Landfill Gas Utilisation Doesn't Have to Mean Electricity Generation in the Following Innovative Proposal:
Dubuque landfill looking to turn gas into cash – KWWL