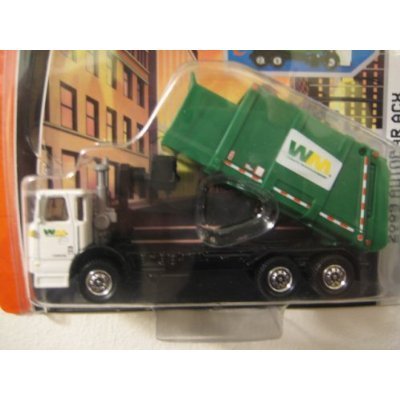 We regularly receive visitors looking for the Mattel Matchbox 2009 Autocar ACX Garbage Truck which was produced in the "Real Working Rig" series of 1:64 die-cast models. The 2009 version was produced in the green WM livery of "Waste Management Inc".
The title of working rig comes from the following capability of this model, as follows:
"Unload the two included bins using the hinged carrier plate, then transport the trash into the storage section of the body by manually spinning the screw extruders. The cab tilts forward to view the detailed engine, plus the lift gate opens and the body inclines to dump the contents."
It's a neat little toy and for many people an icon of 10 years back, although current models of these RCV trucks look very little different.
There is an increasing rarity value of these Matchbox RCVs, and prices appear to have been rising.
Click here to buy from Amazon
22 results for
Toys & Games :
1:64 Diecast. Brand … Matchbox 2009 Autocar ACX Garbage Truck
Matchbox Real Working Rigs Autocar ACX Garbage Truck – Green WM Version HTF -SOLD
From Australia
Other versions of this truck were made in different liveries, and sold at the time:
Matchbox 2010 Autocar ACX Garbage Truck w/Working Hoist & Opening Door