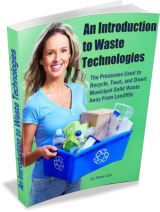 Yes! My recently updated "Introduction to Waste Technologies" eBook is available with new content, and is now better value than ever.
If you found this web site interesting, or you were actually trying to find out about the new Waste Technologies which are being used to increase recycling and divert waste away from landfill, from Incineration to MBT, MRFs, and Composting, then you are bound to find our ebook is right for you!
Our ebook includes concise information on each technology plus very broad estimated costs for each type of facility.
All I ask is that you give me feedback on how you found it, and I am hoping that if you liked it, you will also provide me a with a thoughtful testimonial. The new edition has been updated and extended with new sections, and completely new illustrations, BUT, I would like to make it even better next time around. I need your help to do that.
The difficulty is that although I have honestly had zero refunds, I have not been sent feedback or reviews by my buyers either, since the new version was published last month. I am guilty of this myself. When I buy products, I seldom if ever, take the trouble to comment – especially if I like something, But, I am depending my AD subscribers to help me out on this one by giving me Feedback – that's why I have dropped the price to his truly low level. It's less than the cost of a pizza! It's real steal at this price, although I say it myself, it must surely be an easily justifiable purchase for so many of you.
This eBook is for all those who:
are new to Anaerobic Digestion and by obtaining their copy of this eBook will be able to understand where Anaerobic Digestion and Biogas production fits beside the other waste treatment technologies, and the comparative advantages and disadvantages of each
already work in the biogas or waste and resource management industry who will, I am sure, pick up many additional insights into the lesser known waste technologies.
Now all that remains is for you to go to the "Introduction to Waste Technologies" eBook sales page.
When you have read the ebook, please give us feedback here.

If you have any queries, or any problem with the transaction, just email me at Steve.Last@virgin.net and I'll make sure you get your purchase.