17 November 2010 Last updated at 16:40 The incinerator would have been built near the centre of Perth Ministers have dismissed an appeal against the refusal of plans for an incinerator near the centre of Perth.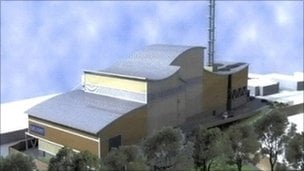 Grundon Waste Management had applied to build an incinerator with a 90,000 tonne capacity, but councillors rejected the bid last year.
Dismissing Grundon's appeal, the Scottish Government Reporter said the proposed development would have an "over-dominant" impact on the area.
Grundon said it would evaluate the full report and review its options.
The £100m scheme had faced considerable opposition from local residents, who were concerned the incinerator would blight Perth for "decades to come".
Councillors voted against the plans for an "energy from waste" plant at Shore Road in Perth in November 2009.
'Clear mistake'
The plan was rejected on eight grounds, including objections to the size of the site and an 80m (262ft)-high chimney stack.
Following the Scottish government ruling, Jim Irons, depute chief executive of Perth and Kinross Council, said: "We were always confident of the outcome but are obviously happy that the reporter has now made the decision to dismiss the appeal.

"I would like to thank all our staff who have worked hard to provide justification for the council's decision and members of the community who have also fought to resist this development."
Mid-Scotland and Fife Conservative MSP Murdo Fraser said he welcomed the decision, saying the decision by the SNP-led council to issue planning permission in principle for the development had been a "clear mistake".
He added: "I believe that special praise needs to go to Bridgend, Gannochy and Kinnoull Community Council, who worked tirelessly to highlight the flaws in the application and the damage that the incinerator would bring to Perth.
"It is due to the hard work and dedication of campaigners that we have finally received the good news of refusal for the incinerator."
A spokeswoman for Grundon said the company was pleased that the reporter had found many positive points in the application.
"Taking all these matters into account, Grundon will now evaluate the full report in detail and review its options – which may include an assessment of alternative technologies and plant designs for use on the Shore Road site," she said.
View the original article here